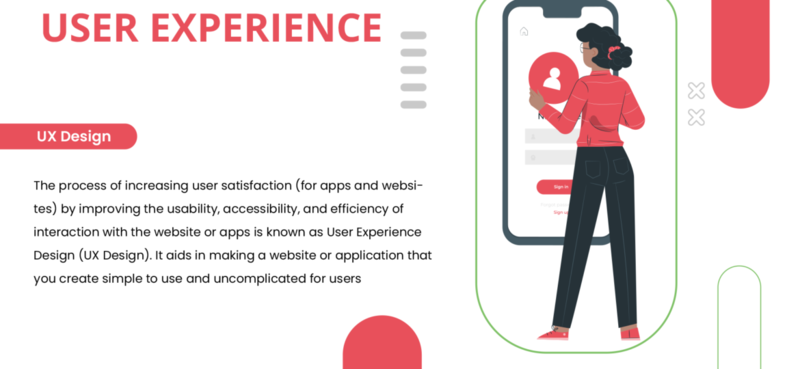 The process of increasing user satisfaction (for apps and websites) by improving the usability, accessibility, and efficiency of interaction with the website or apps is known as User Experience Design or UX Design. It aids in making a website or application that you create simple to use and uncomplicated for users.
The most potent marketing tool available to you is your website. It is your your most prolific salesman, who is out there all day, through the year. The website might thus be your biggest asset and a cornerstone of your marketing activities. Websites that prioritise user experience (UX) have a much better chance of gaining loyal users and increasing conversion rates. The following best practices can improve your site's user experience and see more traffic and conversions.
ENGAGE YOUR AUDIENCE
Users tend to lean toward websites that they enjoy. When you involve your users in the design process, you create a better UX organically. The manner in which you communicate is determined by your intended audience. Create post-purchase surveys and quizzes on social media platforms such as Facebook and Twitter, or ask Instagram users to send you a photo of what they like and dislike. This will not only help you gain insight into your users, but it may also boost your company's social media presence. Find them, ask for their advice, and offer a reward for their assistance. An attractive discount or an early bird sales access may be just the incentive a visitor needs to spend a few minutes explaining how you can improve your user experience.
KEEP IT SIMPLE
People have little patience for situations they don't understand, and this is especially true in the case of technology, they may be even intolerant It is critical to keep things simple when designing for streamlined UX. Concentrate on the most important aspect of your application or website so that they can make a quick and easy decision. It is important to know that when customers feel that the design is cumbersome to navigate, they will go to another site where they feel more at ease. The more familiar your design is to others, the quicker users can learn to use it, which improves their experience.
SIMPLE & EASY TO UNDERSTAND LANGUAGE
Simplicity in visual design has become a standard practise, and UX-focused copy writing should avoid technical terminology in favour of plain language. Users are occupied, on the move, and juggling tasks, so utilise terms in your design that are closest to what the user is thinking.
FUNCTIONALITY OVER AESTHETICS
Though it is important to make your website or application aesthetically attractive, it is even more important that it functions properly. Before devoting significant time to making your website or application visually appealing, ensure that it functions quickly and easily across interfaces.
USER ACCEPTANCE TESTING
Users are asked to interact with the design during User Acceptance Testing (UAT), while designers take notes to see if they run into any issues. If a large number of users have comparable problems, you'll need to make design improvements to address the usability issue. Remember that design is an iterative process that necessitates improvements at every level. As a result, you should perform UATs at every stage of the UX design cycle, including before you start your initial design, during prototyping, and at the end.
EASE OF ACCESSIBILITY
Among the UX Design Fundamentals, designing with accessibility in mind is becoming increasingly important. In other words, it is a designer's responsibility to ensure that their design is usable by as many people as possible. This means that your design must be usable by people with disabilities as well. You should remove any impediments from the design layout to ensure trouble-free navigation. For example, you can use contrasting colours for the text on the background. This makes it easier for visually impaired users (as well as users in low-light environments) to read the content on the screen.
USE OF "LESS IS MORE" PRINCIPLE
The German born American architect Ludwig Mies van der Rohe first proposed the less-is-more design principle. The underlying goal for UX is straightforward: to reduce users' operational and cognitive costs. By emphasising this, the design's usability and consistency improve. The less-is-more approach to design emphasises simplicity over clutter or over-decoration. This UX design principle has resulted in a number of well-known designs. For example, the iPhone was born in 2007 after Apple simplified the phone's keyboard in pursuit of the less-is-more philosophy.
BEING OPEN TO FEEDBACK
By definition, a design should be interactive. When a user clicks on something, the product must respond in order for the user to know that their command has been received. Feedback is an important part in fostering human-machine communication. Your design could react in a variety of ways. The clicked symbol could alter shape, vibrate, fade, change colour, or emanate light, among other things.
FOCUS ON CONTEXT
One of the key insights provided by the UX design approach is that context is a critical factor in how users interact with your designs. Here, context means paying attention to which devices will be used to access your web-page, with special emphasis on the fact that mobile browsing is now the primary form of web traffic. Your site analytics will show how your customers interact with your product. If the majority of your users are using mobile devices, you'll need to optimise design for portability.
PUT THE USER IN CONTROL
UX research has shown that giving the user more control results in a better experience. This does not mean that you should give your users total, unrestricted access to your web pages as it be overwhelming for inexperienced users. Hence, your website should remain simple to use. Confirmation boxes should be included in the UX design so that users do not inadvertently damage their session. There should also be a "Reset" button so that users can return to the default options for the website. Nonetheless, UX Designers must recognise that, depending on the type of web page they are designing, it must work for both expert users and average customers.
CONCLUSION
Following these proven UX design principles will result in a better overall user experience for visitors to a website or users of a mobile app. Designers have only a few seconds to capture people's attention before they quit an app or website in favour of one that is more user-friendly, intuitive, or streamlined.
At ATC ONLINE, we have the expertise and talent that strives to deliver state of the art UX on Websites and E-Commerce Portals. For more information, please visit us at: https://atconline.biz/products/web-design-development/