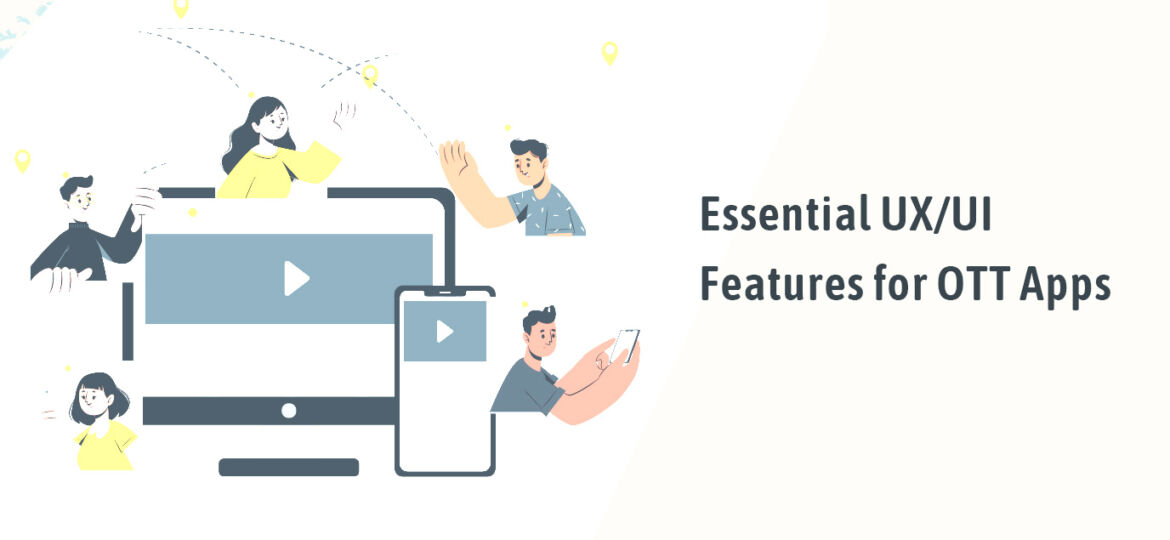 OTT is an abbreviation for "Over The Top," and it refers to any streaming service that delivers content over the internet. The service is delivered "on top" of another platform. Hence, the name. The introduction of over-the-top content has drastically altered how we watch what we enjoy. Thanks to OTT, access to the sports, films, news and other streaming material we desire has never been easier to consumers everywhere, on phones, tablets, personal computers or Connected Televisions, all at affordable rates.
As the trend towards OTT continues, major broadcasters are introducing their own OTT platforms. Newcomers will face intense competition as incumbent OTT companies step up their game with richer content, tailored experiences, and more. In this article we will go over the criteria that will help businesses design, develop & launch a successful OTT platform.
PERSONALISED USER EXPERIENCE
Consumers can have their digital experiences tailor-made to some extent. Building a popular digital streaming app requires a lot of personalisation. Using Artificial Intelligence (AI) is a fantastic approach to build a luxurious UX. AI can improve the OTT app's algorithms and make it more intuitive. AI based systems can assist OTT consumers in discovering material they enjoy. A perceptive app keeps track of user behaviour across all devices used to access it. This aids the company in configuring the best customised blend for a certain consumer. A user-friendly predictive algorithm assures a high rate of content consumption.
VIEWERSHIP ACROSS MULTIPLE DEVICES
Audiences these days consume viewing content across many devices. For OTT players, seamless distribution of streaming content across various platforms like Mobile, TV, or a Tablet, is no longer a choice; it is a must. The goal of an OTT designer should be to provide a uniform experience across devices, regardless of where the consumer begins or concludes a viewing experience. OTT developers may improve a user's view on the move experience by allowing them to consume content at their leisure, regardless of internet connectivity. For such a situation, the option to save or download the content for later viewing allows the user to interact with the app and the material they enjoy at their discretion.
EASY ON-BOARDING
An OTT app must have a streamlined on-boarding procedure. Developers must keep formalities to a bare minimum. For example, the app should just ask for the most basic personal information and permissions. Furthermore, app designers must consider the flexibility of potential users. It is critical to familiarise a consumer about the product's features and navigation. However, technophile consumers may not need extensive orientation to the platform . On-boarding tutorials should be available on a case-by-case basis. Allowing a user to skip a tutorial-guided on-boarding process can help to speed up the process. The should be a provision for people to try out the app's interface and content before requesting that they sign up. All popular content and membership perks should be presented first to viewers. This should be followed by an invitation to join up for a free trial, eventually leading to a membership. One of the elements that can help ensure excellent subscriber numbers is a well-executed on-boarding.
EXCLUSIVE & ORIGINAL CONTENT
The availability of high-quality, unlimited, exclusive, and original content is one of the primary reasons for the growth in popularity of OTT video streaming services. Original content is regularly used to differentiate platforms and enhance user engagement and retention. For a broadcast network, of exclusive and original content across genres, ensures user loyalty and retention across platforms. Furthermore, with original content, the OTT network can control all its intellectual property rights. Ownership of IP rights provides broadcasters access to future licencing income prospects. Developers should ensure that the product should be rich in such content. Due attention should be paid towards effortless handling of storage, trans-coding and video ingestion so as to ensure complete security of the streaming content.
SELECTION OF AN APPROPRIATE MONETISATION MODEL
The success of an OTT platform is determined by the quality of the content available. Designers should also keep in mind that OTT monetisation techniques for various sorts of targeted consumers will be a welcome addition. Video-on-demand (VOD) formats are the most common form of OTT monetisation. Users pay for content that has been pre-recorded and uploaded or is being streamed live on an OTT platform. OTT monetisation strategies are generally divided into the following categories:
(A). Subscription-based Video on Demand – Subscription-based Video on Demand (SVOD) providers levy a recurring fee for full access to their video platform on a weekly, monthly, quarterly, or annual basis.
(B). Transactional Video on Demand – Transactional Video on Demand (TVOD), operates on a one-time give and take mechanism, similar to purchasing or renting a commodity from a nearby store. Consumers purchase or rent films one at a time based on their need. This is also known as pay per view (PPV) or pay per download (PPD).
(C). Ad-based Video on Demand – Ads are used to generate revenue in the Ad-based Video on Demand (AVOD) model. A content aggregator or a search platform makes the material available to users for free.The downside of this strategy is that the audience is exposed to advertisements while viewing the content.
(D). Hybrid Video on Demand – Hybrid VOD combines the greatest features of each monetisation strategy. Typically, one of these income models is chosen as the main model, with the others employed for exclusive partnerships. The hybrid VOD monetisation strategy is ideal for firms who want to reach a large number of subscribers.
INTEGRATION OF A SECURE PAYMENT GATEWAY
Developers must incorporate a secure payment gateway within their OTT app. The payment experience should be presented to the user as an extension of the app experience. Make the gateway accept cash, cards, net banking, and digital wallets. App developers must also guarantee fraud prevention and user data security.
CONCLUSION
As OTT grows in popularity, more and more entertainment and media companies will join the band-wagon with their own platforms to remain connected with their audiences. A diverse mixture of original and high quality viewing content will be paramount for their success. The OTT industry will also grow with the adoption of newer technologies, and cutting edge user interface and experience being deployed to keep the audience interest intact. At ATC Online, we offer a proven OTT Solution replete with Amazon Web Services (AWS). Our Online Streaming Solutions are optimised for enhanced video delivery with ample storage and security. For more information visit us at – https://atconline.biz/products/ott-platform-for-video-streaming-services/