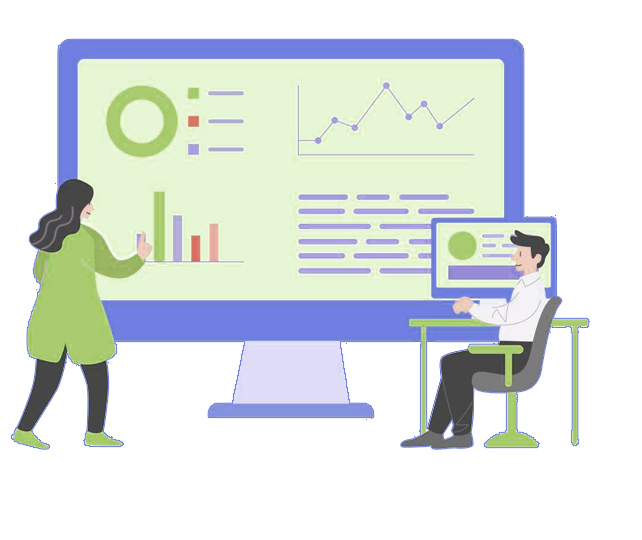 Learning Management System (LMS) is a software suite designed as an online teaching support system for educators. The LMS provides institute faculty a cohesive platform for managing their curricula in real time, online. Lessons, assignments, exams, and assessments are easily accessible digitally with this paperless solution. A learning management system enhances the delivery of distance learning by making it more accessible and engaging for students.
In response to the COVID 19 Pandemic, there has been an ever growing number of educational institutions that are gravitating towards providing a coordinated and competent online distance learning to their students via Learning Management Systems. This system has evolved over time to include a plethora of innovative features. As a result, when choosing your LMS, it is critical to strike a balance between your needs, cost, utility, and value for money. Your discretion to choose an LMS Solution for your Institute should be based on the following considerations:
DECISION TO DEPLOY SHOULD BE BASED ON TEACHER/STUDENT FEEDBACK
You should look into multiple learning management systems that are available before deciding to make your purchase. Encourage your teachers to try out these systems with students in classrooms. A well conducted trial with time set aside for group discussion and brain-storming will go a long way towards selecting the ideal platform for your Institution.
EASY TO USE
Ease of use should one of the biggest factors in commissioning a Learning Management System. There should be emphasis on User Experience (UX) for teachers, students and parents alike. Effective communication among teachers, students, and parents not only builds trust but also bolsters academic performance. Therefore, an LMS should include dashboards that enable teachers to easily share information such as assignments, lessons, activities, alerts, assessments and curriculum with both students and parents.
INTEGRATION OF THE LMS WITH YOUR MISSION & VISION
A well-defined LMS should offer learning experiences that are tailored to your learners' needs as well as your institution's goals and vision. Strategic alignment in the context of educational institutions is a process of prioritising the goals and missions of teaching activities in relation to business needs, and ensuring that learning contributes to business results.
COURSE CREATION & CERTIFICATION
The LMS should have the functionality for faculty to create course content using built in modules to integrate files in multiple formats, like audio, video, PDF, Excel, among others. Additionally, certification of students on completion of their course and tracking their progress across courses and curricula is one of the most important feature of any LMS.
ASSIGNMENT MANAGEMENT SYSTEM
One of the most basic actions in teaching is giving pupils assignments to assess their learning. An Assignment Management System at the heart of the LMS, helps faculty members in not only allocating assignments and deadlines to students but also monitoring their progress and completion. All assignments and projects have a start and end date, and students can update the task when it is concluded. The assignments can be instantly reviewed by teachers online. Grades can be suitably rewarded within the system. Feedback from instructors It may include audio/video clips or in-line comments in PDF to bolster explanation and make it more understandable and useful.
PERSONALISED LEARNING
The LMS should help students with personalised learning by suggesting academic resources and activities. Such suggestions should be customised to a student's learning curve. Thus, teachers can pick activities that are most pertinent to the student's overall development of knowledge and skills. Additionally, it enables students to reflect on their own progress with the help of counsellors, teachers, and parents.
The platform should be replete with Pedagogical tools consisting of videos, online readings, & forums for quizzes and discussion on subjects can keep students engaged and motivated. Activities like games, puzzles, crossword, hangman ET AL, should also be incorporated in order to break any monotony that might come into teaching and learning activities.
VIDEO CONFERENCING & COMPATIBILITY WITH MOBILE DEVICES
An ideal LMS must feature a sharp video conferencing platform to conduct live classroom sessions, where students can witness a lecture and clarify doubts on the go. This will be handy for students in need of special or one on one attention. Additionally, the LMS should have the feature to record all virtual online classes and make them available to students for reviewing at a later point of time.
A mobile compatible LMS is a great solution for pupils who do not have a computer at home. When your LMS includes mobile capabilities, either in design or by way of a mobile app, students may engage in learning from any place and on any device.
DASHBOARDS & CALENDAR
A dashboard and calendar are critical in an effective LMS. Learners may access relevant information in real time on such dashboards and keep track of their progress and deadlines. It enables individuals to better organise their study time and so attain their learning objectives. They may be used for setting reminders for upcoming assignments, submissions or exams. Dashboards can assist administrators and instructors in ensuring that students are appropriately allocated assignments and their progress is duly monitored.
SECURITY & PRIVACY
The LMS that you choose for your institution must ensure absolute security of all personal data pertaining to teachers, students and their families alike. The system must have password protected logins with relevant access and permissions based on who is who. The LMS must use server locations and have a robust back-up mechanism. You have the right to know what encryption and security mechanisms the LMS deploys. Firewalls and SSL play a significant role in enhancing security.
CUSTOMER SUPPORT
An Agile Customer Support Mandate from LMS Solution Providers should be a must, right from setting up of the platform to addressing operations and maintenance concerns. Customer service options may include live chat, phone calls, and email support.
CONCLUSION
The digital learning sector is expanding at a rapid pace. Learning Management Systems are becoming more prevalent as distance learning becomes more common in schools and colleges. You must look for an effective LMS to consistently maintain the quality of your education and academic achievements of your institution or brand. Alternatively, you may engage a competent developer to assist you in determining the best approach and developing a unique digital learning platform. At ATC ONLINE, we can help you do both. Our LMS is one of the best in its class due to its open architecture and ease of use. We not only provide full-service consultation and customisation of our e-learning solutions, but we also ensure a successful on-site implementation. For more information, please visit us at: https://atconline.biz/products/e-learning-management/