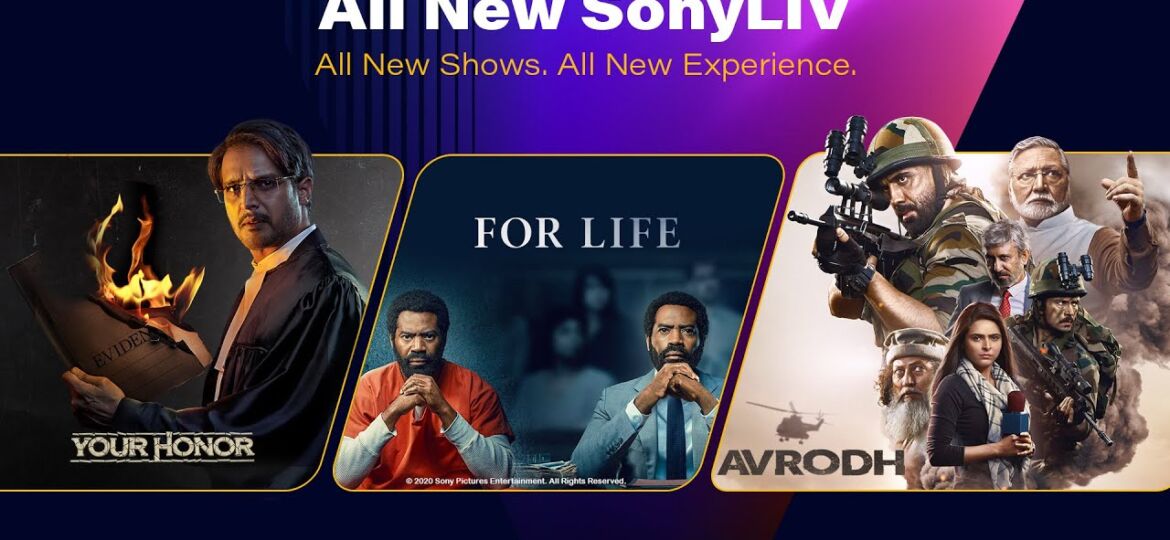 In June this year, SonyLIV 2.0 marked the second anniversary of its re-launch. The OTT channel is boosting its content with its offer of 50+ Hindi and 50+ other language premium content to commemorate two years in its new incarnation. SonyLIV has also ventured into Tamil originals, with online series such as Meme Boys and Tamil Rockerz, Kaiyum Kalavum, Victim, Journey, Accidental Farmer & Co. and Iru Dhruvam 2 and many others. This was followed by original content in Telugu and Malayalam languages.
Tanaav, Freedom at Midnight, Dr. Arora, Avrodh 2, Maharani 2, and SCAM 2003: The Telgi Story, Faadu, Pulwama Key No 1026, Rocket Boys 2, Jazz City '71 – Fight for Language, and Faadu are among the Hindi titles available or lined up for release in the days to come. Good Bad Girl, Children of Freedom, Jehanabad – Jail Break and Heart Break, Jengaburu, Garmi – A Billion Dollar Curse, Summer of '77, Main Sahir Hoon – Children of Freedom and India's First Election are also among titles to look out for.
SonyLIV, which debuted in January 2013, has 24 years of content from Sony Pictures Networks India's (SPN) catalogue, with over 40,000 hours of programming. SonyLIV is the first Indian premium Video on Demand (VOD) service that offers multi-screen interaction for customers across all platforms.
SonyLIV rolled out its revamped Avatar in May 2020. It was aptly named SonyLIV 2.0, with changes to its logo and a brand new identity. This has certainly helped the OTT platform to stay in contention with the OTT giants like Amazon Prime Video & Netflix. SonyLIV 2.0's progressive deployment took around three weeks to complete. The original content library was then introduced in June '20 as part of a new LIV Premium membership bundle. SonyLIV has provided an interesting library of originals on its platform, in addition to modifications in brand image and user experience. These originals showcase some of the most well-known faces in the entertainment industry, ranging from real-life situations to book adaptations to fictional narratives.
SonyLIV video-on-demand service includes acquired TV series and films, as well as live sporting events and interactive game shows, in addition to original content. SonyLIV membership base has expanded tenfold since its re-launch, while its content has increased sevenfold.
According to Mr. Aman Srivastava, Head of Marketing – Digital Business SPN, SonyLIV2.0 was created to provide a world-class entertainment experience as well as some truly unique Indian stories for a worldwide audience. Sony Pictures Networks India's (SPNI) streaming platform plans to more than double its present subscriber base of 18.2 million by the end of 2022.
According to Elara Securities, the SonyLIV platform has a 4% market share in the subscription video on-demand (SVOD) industry in India, and its paying customers have increased dramatically in the previous two years, from 0.8 million in 2020. This was especially true with the release of one of its most successful programmes, 'Scam 1992', which garnered around 22 million visitors to the network.
The platform also intends to develop alliances with carriers in order to increase subscribers. SonyLIV is available on pre-paid and broadband with Airtel and Airtel Xstream. They have a strategic agreement with VodaIdea for pre-paid and post-paid plans, with intentions to scale it even further.
In order to attract more paying users, SonyLIV plans to offer a mobile pack soon. In 2019, Netflix released mobile plans for the Indian market for Rs. 199, which analysts say helped the platform attract more users in the nation, since approximately 80% of OTT consumption is mobile-led. SonyLIV expects its growing momentum to continue this year, thanks to newer subscription programmes and expanded collaborations. Last year, the over-the-top (OTT) market experienced a 65 percent rise in overall income and a 173 percent increase in subscription revenue year on year. Subscription revenue accounts for 55% of overall income.
SonyLIV is a streaming entertainment service that allows you to watch exciting sports matches, movies, and TV episodes. SonyLIV has something for everyone, whether you're a Bollywood enthusiast or a sports fan. Live sports events on the site include the UEFA Champions League, the Australian Open, the UFC, WWE, NBA, and cricket. SonyLIV is filling up its sports library with the top content. One can enjoy a broad choice of sports on SonyLIV, including the UEFA Champions League, Europa League, Series A, FA Cup, international friendlies, and the UEFA EURO Championship 2020. Consumers have the option of watching live football matches with English commentary or changing the language from the options menu.
One of the highlights of SonyLIV live sports coverage has been the live streaming of multiple events at the 2020 Tokyo Olympics. Lastly, who can forget the stellar show put up by the Indian athletes at the recently concluded Common Wealth Games 2022? It was SonyLIV that brought these events live into millions of homes in India.
Sony Pictures Networks India Private Limited (SPNI) and Zee Entertainment Enterprises Ltd. (ZEEL) announced in December 2021 that they had signed formal agreements to merge ZEEL with and into SPNI, combining their linear networks, digital assets, production operations, and programmes libraries. According to analysts, this will also be a crucial motivator for subscriber growth. With a combined market share of 19 percent, Zee-Sony is expected to reach third place in the SVOD industry as a united entity. Given their relative strengths in scripted, fact based, and sports content, respective distribution footprints across India, and legendary entertainment brands, the consolidated corporation should be well-positioned to fulfill the growing consumer demand for premium content across entertainment points of contact and platforms.
The consolidated business's capacity to create stronger shareholder value is projected to be driven by the seamless marriage of broad expertise in content production, deep consumer insights, and success across entertainment genres. The united firm is intended to be able to compete with the world's major streaming players such as Amazon Prime Video & Netflix, under the leadership of the Sony Group, a worldwide leader in consumer electronics, gaming, and entertainment.
FINAL THOUGHTS
SonyLIV was re-launched as Sony LIV 2.0 in 2020 after undergoing a revamp. They began streaming material from Sony Pictures Entertainment, Sony Pictures Television Studios, ITV, and Reliance Entertainment following this shift. SonyLIV has also begun to broadcast its own original movies and shows. WWE Network will be available in India through SonyLIV in January 2021. In addition, the OTT portal offers its own series in 5-7 languages. SonyLIV paid customers have increased dramatically, from 800,000 two years ago to over 18 million now, including 6.9 million direct subscribers.
ATC Online presents PACIFYCA, a proven OTT solution that includes Amazon Web Services (AWS). Our Online Streaming Solutions are geared for enhanced video transmission, abundant storage, and best-in-class security with cutting-edge content protection management. For more information, please visit us at: https://atconline.biz/products/ott-platform-for-video-streaming-services/