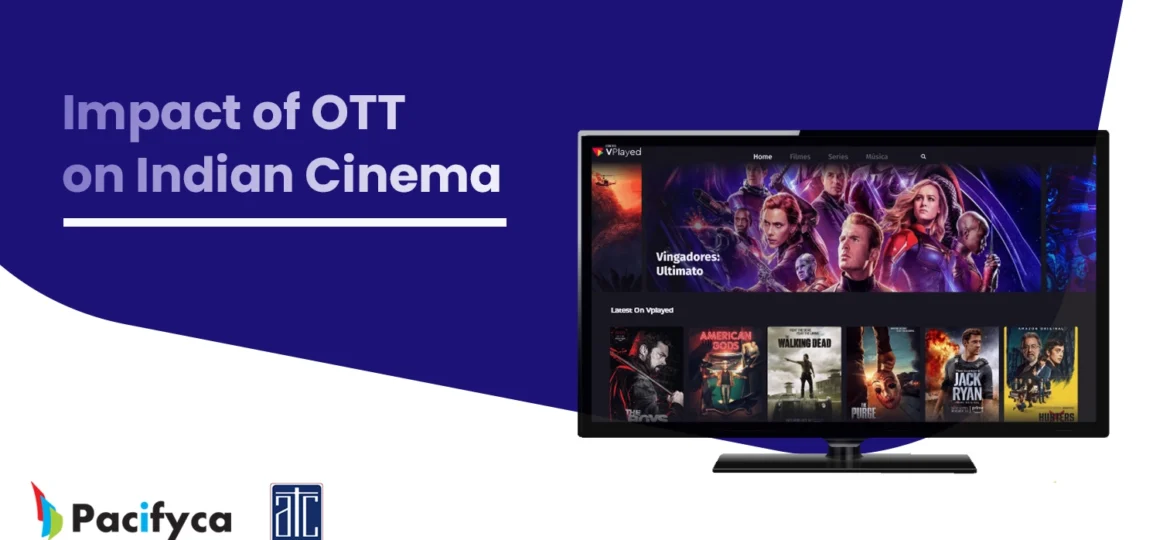 The online video industry in India is now one of the fastest growing, with an expected 500 million online video viewers by the end of fiscal year 2022. This would make it the world's second largest market behind China. OTT platforms will account for a significant amount of this growth. With only two OTT platforms in 2012, there are over 30 OTT platforms today that are constantly pumping out fresh content. To mention a few, there is Amazon Prime Video, Disney + Hotstar, Netflix, Sony Liv, Zee 5, among others.
An Over-the-top (OTT) platform is a digital video platform that is directly distributed to users over the Internet, circumventing the traditional distribution routes of theatres, cable, radio, and satellite television. The Internet is dramatically transforming India's entertainment business. The magnitude and impact of future digital content consumption for the country's mobile phone user base is tremendous, thanks to the advent of 3 G, 4 G, and the newly introduced 5 G networks and millions of customers.
Apart from faster internet access, this shift was also prompted by reasons such as lower-cost smartphones, larger displays, competitive data plans, and increased bandwidth capacity. OTT services' aims and client needs have evolved over time. The expansion of OTT networks has had an impact on the movie theatre sector and not mention, the box-office.
OTT vs. BOX-OFFICE
Cinema in India unites people from all walks of life, however the rise of OTT has had an influence on theatres and multiplexes as well. Traditional theatres have faced severe competition as a result of the ease and flexibility provided by OTT services. OTT applications have enabled people to view movies anywhere and anytime.
Many international television series and most Bollywood movies are available via OTT subscription within 8 weeks of their first release, saving movie goer's money. It allows you to watch movies and TV shows from anywhere, at any time, and for an unlimited number of times. With the shifting landscape, the producers are also distributing the film online. This tendency has caused concern among theatres and multiplexes. Nonetheless, it is reasonable to assume that viewers nowadays have a plethora of alternatives from which to pick based on their preferences.
REDEFINING ENTERTAINMENT
Both OTT platforms and the movie theatre sector deliver the same kind of content but their purposes and customer characteristics differ. The rise of OTT platforms has brought significant changes in the entertainment industry. It is being spurred by the growth in living standards, the evolution of smartphones, widespread and inexpensive internet access, rising penetration in rural regions, and changing audience tastes.
It is worthy to mention that major OTT firms have been developing original movies and series in addition to providing live entertainment, which has garnered attention. The growth of OTT channels has sparked fears that it may spell the end of the theatrical experience. Certain films frequently choose the OTT approach to reach the suitable target audience. Video streaming sites have undoubtedly made watching movies more economical, easy, and 'on the move,' particularly for those who love binge-watching.
MAGIC OF MOVIES & THEATRES WILL REMAIN INTACT
There is no doubt that theatres give movie-goers an immersive experience. On a portable device such as a cell phone or tablet, viewers cannot fully appreciate a movie's sound effects, VFX, and plot. Going out to socialize and relax by viewing movies in theatres is still ingrained in our social fabric. Furthermore, dining out and an immersive experience at the movies, keep it appealing. It is a significant source of income for the picture. If previous performance is any indication, the box office model remains a viable choice for both content providers and theatres, whether in terms of occupancy, footfalls, revenue, or operational profitability.
It should also be noted that the emergence of OTT platforms has had an influence on box office sales. This is because more individuals are watching movies online instead of going to the cinema. As a result, the movie theatre business is losing money. One cannot help but notice the shift in the mindset of the public, which, following the lockdown, became accustomed to seeing films at home via OTT platforms rather than on the large screen.
Rising inflation and an audience still hesitant to see all films in theatres have surfaced as major difficulties for the film business. The exorbitant cost of food and beverages at multiplexes and theatres also contribute to drive the audiences away, more than the price of a ticket itself. If a family goes to see a movie, the cost per person is almost often about Rs. 500 or more. As a result, many avoid going to the movies when the same film will be available on OTT in a few weeks.
BIG REACH FOR SMALL FILMS
There are two business models used by OTT platforms. The first strategy includes owning control of the film's intellectual property and hiring a production company to deliver content. This works well for low-budget filmmakers, who may expect a 15-20% reduction in production costs. The second option is selling the rights to an OTT to a movie made under a banner. As a result, those players that lack a strong presence in terms of production capabilities, marketing, and distribution can still find a solution by selecting the realistic deal choice.
PROMOTION OF REGIONAL CINEMA
Nobody is surprised by regional cinema's battle for multiplex screens. OTT platforms, on the other hand, have given it its due by placing it under the 'Movies in other languages' category. Given the OTT platforms' content-centric policy, Punjabi, Marathi, Bengali, and South Indian movies have attracted a considerable audience. Regional cinema, particularly low-budget films, has attracted a sizable following for its substance.
OTT with its phenomenal reach has provided a fantastic avenue for regional film to entertain non-Hindi speaking Diasporas over the world. Hoichoi, an OTT platform based out of Kolkata, reportedly gained 13 million subscriptions in September 2020, and the Bengali audience not just in India but also in Bangladesh contributed to the unprecedented increase in revenues.
A LIFE-LINE FOR BOX-OFFICE NON-STARTERS
For a long time, box-office revenues were used to determine a movie's success, but with the emergence of OTT platforms like Amazon Prime Video, Netflix, Sony Liv, Zee 5, and others, producers now have a second chance to hope for greater response for their movies. Every cine-goer has a different taste in films. Many films fail at the box office owing to a variety of reasons from poor early reviews and criticism to lack of PR and marketing. The OTT distribution provides viewers with a new opportunity to see and understand the film. Jersey, starring Shahid Kapoor, was one such film that failed to generate enough buzz. Jersey was received better on OTT than it was at the box office.
CONCLUSION
OTT platforms and theatre both have perks and drawbacks of their own. There is significant room for expansion for OTT platforms. They cannot, however, take the role of theatres. Both are expected to stay and keep the audience entertained for the foreseeable future.
At ATC Online, we offer a proven OTT Solution replete with Amazon Web Services (AWS). Our Online Streaming Solutions are optimized for enhanced video delivery with ample storage and security. For more information visit us at – https://atconline.biz/products/ott-platform-for-video-streaming-services/