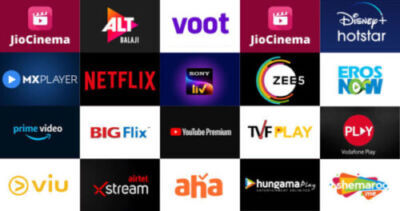 Over the last decade, there has been a significant rise in OTT (over-the-top) content distribution. In OTT, viewers can access their favourite shows and videos via the internet rather than a cable or DTH satellite connection. The introduction of over-the-top content has drastically altered how we watch what we enjoy. Thanks to OTT, access to the sports, films, news and other streaming material we desire has never been easier to us everywhere, on our phones, tablets, personal computers or Connected Televisions, all at affordable rates
In the last year and a half, pandemic-induced restrictions have changed our lives. What do you do when you can't travel and any movement outdoors is restricted? Work is limited to laptops and PCs in your home, and shopping is limited to purchasing from one of the many apps that offer home delivery services. You binge-watch TV shows and movies! In recent times, the average time spent by each Indian subscriber has increased from roughly 20 to 50 minutes to at least one hour. With over four dozen OTT platforms to select from, people in India could watch their favourite TV show or the latest movie on their phones as long as they have access to the internet. With the closure of theatres, the pandemic coerced the media and entertainment industry to innovate like never before by gravitating towards OTT. Here are some compelling reasons how OTT will turn the Entertainment Industry on its head:
Power to the Audience – Choice with convenience & Value
OTT platforms are simple to use and require only a few items such as a stable internet connection, a smart TV or a smartphone. The total cost of OTT usage is determined by the internet data package selected as well as subscription fees for the OTT platform, if any. The charges are thus lower in comparison to traditional cable network charges. As internet is accessible from anywhere, at any time and from any device, it becomes easy to access content on OTT platforms. This freedom to locate OTT services makes it easy for viewers to view their preferred contents.Thus, an OTT platform's freedom of location makes it very convenient for viewers to watch their favourite content regardless of network carrier. Additionally, the ability to watch or upload videos from smartphones allows live video streaming from anywhere and at any time.
A typical network's package includes serials, news, live games, movies, and children's content, among other things. As a result, the viewer is constrained in terms of channel selection, content type, quality, and variety. OTT platforms provide a wide range of content, with the majority providing both free and paid content. Subscriptions allow viewers to become premier members, but even without subscribing to OTT platforms, a viewer can watch a diverse and nearly limitless amount of content.
Cinema Industry hand in hand with OTT – A Casting Coup
Although there may be some trepidation among the film industry's major production houses about the new normal, data shows that OTT services will continue to dominate even after COVID 19. As a result, the need of the hour is for producers and investors to consider integration of this technology into their business.
OTT can help content reach millions of potential consumers at a fraction of the cost of a conventional release and ad promotion. The simultaneous release of a new film on DTH and OTT can attract billions of viewers worldwide. By monetising their online ads, the production company could potentially make millions in the first weekend of release. While multi-million dollar releases are still possible, cinemas can reduce their financial risk by entering into a minimum guarantee deal to cover their production costs. The threat of piracy that production houses face in India can be eliminated by releasing content through OTT channels. In fact, widespread availability of content may eliminate the need for piracy entirely.
OTT – A path to fame for previously unrecognised talent
As the power to choose returns to the audience, OTT Platforms can level the playing field for people who lack clout but have talent. Instead of being forced to watch a handful of carefully curated movies released on a specific day by powerful media houses, the audience can choose which movie and who to watch.
A Holistic Transformation for Advertising & Marketing
OTT advertisements provide more transparency in content consumption. What consumers watch, how long they watch it, when they watch it, the device they watch it on, and so on are just some of the parameters that OTT has data on. As a result, it provides greater data transparency, leading to better data analytics.
Finding the right audience niche and running taste-specific content are the most important aspects of advertising campaigns. With improved data analytics, OTT platforms provide advertisers with the benefit of analysing who their audiences are and what they want, in order to facilitate conversions. As a result, micro-targeting becomes easier, and consumer engagement increases. The advertiser will also be able to convey the message much more effectively. A company's profitability rises when it makes the best use of highly engaging TV commercial breaks and data-driven online targeting. An OTT offers a more engaging, and enhanced audience base to launch an advertising campaign. The amount of engagement achieved by an advertisement is one of the audience targeting parameters used to calculate the success of an advertising campaign. As a result, advertising on OTT platforms produces better results and allows for greater Return On Investment.
CONCLUSION
As our live style changes, technology will also evolve. Therefore, it is amply clear that OTT with its USP of choice with value and convenience is here to stay. It is no doubt a game changer in how entertainment content is delivered and viewed.
At ATC Online, we offer a proven OTT Solution replete with Amazon Web Services (AWS). Our Online Streaming Solutions are optimised for enhanced video delivery with ample storage and security. For more information visit us at – https://atconline.biz/products/ott-platform-for-video-streaming-services/