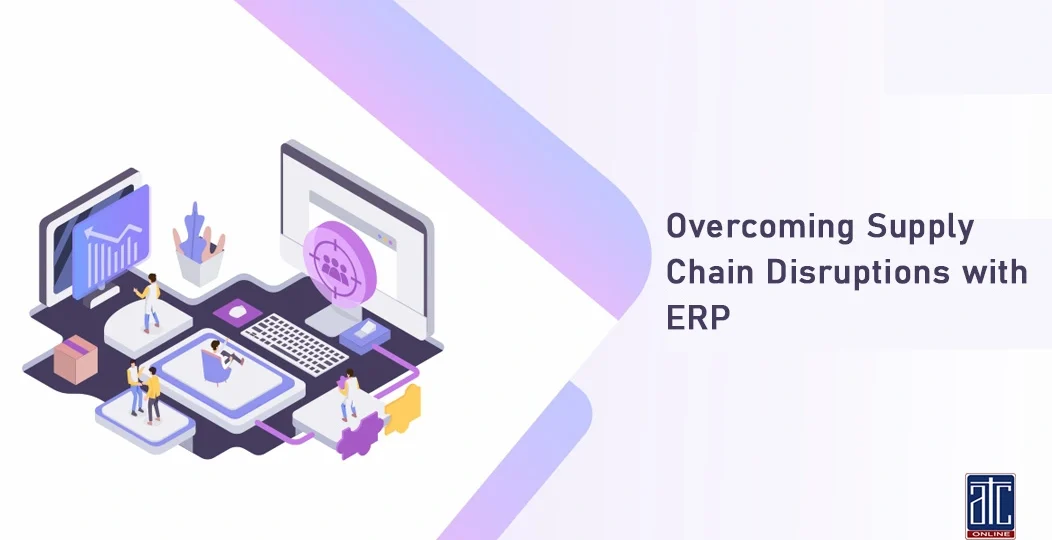 For more than two years, supply chains have been disrupted, first with the pandemic and more recently, foreign conflicts. Delays in supply may wreak havoc on firms, resulting in slower output, delayed delivery, and dissatisfied consumers. Manufacturers risk losing consumers and negatively impacting their business if there is no method to proactively address supply chain difficulties.
Small and medium-sized businesses frequently utilize spreadsheets to manage their supply chain activities, but as their firm grows, this strategy becomes inefficient. Departments are unable to seamlessly coordinate on logistics of supply chains. Spreadsheets are ineffective for managing the intricacies and frequent changes in supply networks that developing businesses encounter. An ERP system may evaluate data and improve the supply chain process, allowing firms to receive the materials they need to deliver their own goods on time. Let us now understand some of the ways the ERP helps manufacturers improve their supply chains.
ERP INCREASES VISIBILITY
An ERP consolidates all the facets of supply chain into an integrated system. Businesses can connect with suppliers and gain insight into the entire supply chain. This connectivity enables them to stay on top of what is going in real time and quickly identify potential issues and address them before they create issues. The ERP also provides cross-channel inventory visibility, allowing users to see the stock levels of any product at any time. Users can also view inventory in other regions of the world and collaborate with vendors all over the world to expand their material purchasing options.
ERP MAINTAINS COMPLIANCE & GOVERNANCE
Enterprises frequently depend on overseas suppliers. As a result, strict adherence to government taxes, international treaties, and procurement regulations is required. An ERP system can assist in managing international challenges and ensuring compliance. Furthermore, increased supply chain visibility via ERP enables you to track and control variables such as weather, currency exchange, political turmoil, and delayed shipments.
ERP ENSURES BETTER FORECASTING
As data is manually entered into spreadsheets, they are not suitable for forecasting supply needs. Whereas the ERP uses algorithms and usage analysis to plan for demand, based on the supply chain data it receives. It enables you to examine sales forecasts and existing supply levels in order to anticipate what will be required in the future. Reports are created using real-time data insights to show what supplies will be required to fulfill future demands.
ANALYTICS & INSIGHTS
All divisional information is integrated onto one platform using an ERP. It enables the partners to obtain fundamental information that is continually available across offices and in various locations. Data administration and data analysis become simple and effective as all of the information is accessible from a single platform. Additionally, it can enable a company to take choices quickly, increase its flexibility, and improve customer service. Also, if the ERP is cloud-based, data is accessible at any time and from any location.
CUSTOMER SATISFACTION & BRAND EQUITY
When businesses can obtain the supplies required to manufacture products in order to meet demand, they achieve high levels of customer satisfaction. Using ERP in conjunction with supply chain management ensures that the raw materials required arrive on time. Manufacturers are more likely to retain customers, receive referrals, and increase their brand equity when they produce goods and deliver them when they are needed.
Now that we've seen how ERP may help businesses improve their supply chains, we'll go over some measures you can take and systems you can put in place to mitigate the impact of supply chain disruptions on your organization, whether it's in distribution, retail, manufacturing, or another industry.
Have a Response Plan in Place
You may remain ahead of competition by preparing many quarters ahead of time, giving you the freedom to change course if unexpected circumstances arise. When feasible, a company should prepare ahead of time keeping consumers in the loop, to get orders in early. They must adjust be prepared for any unpredictability and greater inventory and storage expenses. By combining risk management modules of the ERP, a business may do well to identify where and how interruptions may effect various supply chain parameters such as inventories, pricing, and shipment times.
Re-evaluate Legacy Actions & Practices
The current supply chain issues, including the pandemic, the conflict between Ukraine and Russia, and the Suez Canal obstruction, can no longer be labeled as shocks. Organizations have begun to question the trustworthiness of an inventory strategy that is pretty much completely dependent on third-party suppliers, especially, after economic unrest in early 2020 produced a significant supply chain backlog. Such an inventory model strongly depends on stable political, social, and economic environments, which aren't always the case. Also, businesses must broaden their supplier's base. Instead of relying just on one supplier, it is better to have a list of back-up suppliers on hand who can deliver critical components of your products, ensuring that business will continue even though one of your vendors dries out.
Optimize your Systems & Processes
A corporation must be fully informed of how the issue is affecting its inventory and overall business operations when it is affected by a worldwide supply constraint. By using the sophisticated inventory management tools incorporated into the ERP, they can keep an eye on their inventory and stock levels, suppliers' delivery schedules generally, and maintain a channel of communication with their suppliers. It must be noted that implementing an integrated ERP system in place of laborious and ineffective procedures like spreadsheets is a part of incorporating sophisticated technologies.
By combining demand and supply data aspects on a single platform, ERP systems may significantly increase supply chain management efficiency. An appropriate ERP platform can assist integrate data across all aspects of the supply chain, including personnel, depots, retailers, facilities, and both digital and physical marketplaces.
Modern ERP systems, such as PACIFYCA by ATC ONLINE, have compliance distribution engines that may be configured to match existing and future distribution channels to customer demand. Sophisticated allocation algorithms can be created to minimize the effects on high-priority consumers while increasing business income.
Final Thoughts
Modern organizations require an ERP to optimize supply chain operations. The ERP gives manufacturers the visibility, accessibility, analysis, and agility they need to enhance supply chain management and keep production on track. Manufacturers more than ever need solutions that can assist them address supply chain disruptions in light of all the difficulties they have experienced recently.
PACIFYCA SCM Solution is an automation software package that unifies all aspects of a company's supply chain management operations into a unified platform.
For more information, please visit us at: www.atconline.biz