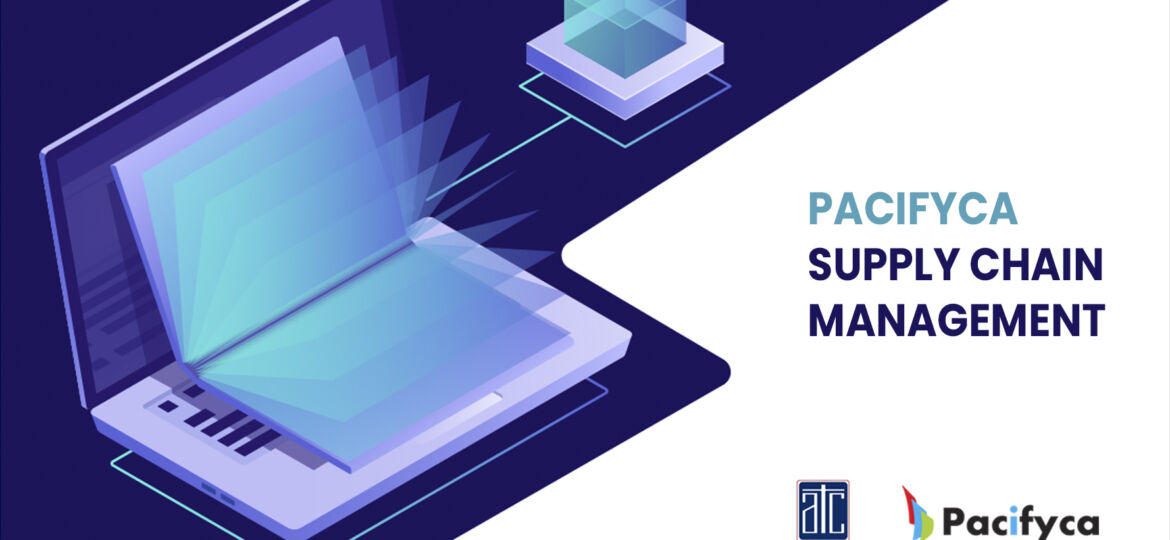 Supply Chain Management (SCM) is the organization and execution of integrated business processes and practices across the full supply chain, from raw material procurement to product manufacture to delivery to retail outlets and customers. A typical supply chain encompasses a wide range of activities and procedures, as well as a substantial staff deployment. As a result, businesses rely on SCM software to manage and visualize the movement of commodities from one end of the supply chain to the other.
PACIFYCA, an SCM solution curated by industry specialists at ATC ONLINE, dramatically increases supply chain visibility. It enables company operations to make better inventory selections. It enables management to create optimum KPIs based on prior orders and financial data, increasing the overall productivity of the supply chain. It also helps customer support by providing real-time access to track consumer orders and answer inquiries. The system keeps supply chain management records and continuously updates production data, accounting records, stock, and outstanding orders. This guarantees that the procurement, planning, and production systems all use the same data.
The PACIFYCA SCM program helps businesses to monitor the movement of goods from vendors to production and finally, into the hands of customers. PACIFYCA maintains production efficiency by ensuring that all supplies are stocked and in the proper locations, as well as precisely scheduling machinery and manpower resources. Throughout the purchase process, the software talks with vendors and assures accuracy. Following that, PACIFYCA's incorporated inventory optimization, stock control, and predictive analytics improve production tactics, while production orders and routing assure supply plans are carried out and items are delivered on time. Let us now look at some of the benefits of implementing our SCM solution.
AUTOMATION OF REPETITIVE TASKS
A linked supply chain enabled by automation technology offers the chance to liberate personnel from these monotonous, manual duties. The PACIFYCA SCM system includes useful automations to help you reduce your most time-consuming and laborious operations, such as order processing, invoicing, and inventory management. Employees in the supply chain department are constantly storing and processing these records for a variety of reasons, but it is a time-consuming, manual effort that prevents firms from achieving operational excellence. Automating these routine tasks not only enhances the capacity of your warehouse workforce, but it also improves the accuracy of your supply chain processes. Documents used in supply chain management operations include delivery orders, dock receipts, bills of lading (B/L), maritime waybills, and so on.
Furthermore, integrating PACIFYCA with existing systems and automating manual activities increases efficiency and reduces time-to-market.
BETTER VISIBILITY
PACIFYCA SCM software delivers end-to-end visibility of your supply chain by providing a consolidated view of all operations' people, processes, and technology. This improved openness increases data exchange and collaboration among suppliers, distributors, and retailers, allowing firms to monitor performance throughout the supply chain. It is accomplished by making relevant data from each step available to consumers. It eventually leads to more efficient work completion, allowing for on-time delivery and precise tracking. The user-friendly UI makes identifying process flows simple.
COST OPTIMIZATION
One of the primary advantages of PACIFYCA SCM software is that it helps firms to identify and remove inefficiencies and expenses without altering the way they operate. The software aids in the consolidation of all IT expenditures, resulting in a rise in overall effectiveness. This, in turn, reduces the need for further personnel training and allows a business to save on high-end operating expenditures. Through a shared software platform, PACIFYA enables the firm to obtain hands-on knowledge. This might be the best return on investment to justify the expenditures of the firm.
Cost control may have a big influence on your bottom line and overall business success. PACIFYCA enables businesses to cut expenses by lowering overheads such as those involved with storing goods and eliminating waste by enhancing quality control. Furthermore, maintaining track of payments ensures that suppliers be paid on time, avoiding late fines and occasionally receiving early payment incentives.
OPTIMIZATION OF SUPPLY CHAIN
Given the never-ending flow of order fulfilment and replenishment, modern supply chains, particularly those in ecommerce, are in a perpetual state of transition. With this in mind, the PACIFYCA SCM system aids in supply chain optimization by shortening the time between production and delivery of goods. Supply chain visibility by SCM software throughout your complete supplier network, storage facilities, distribution hubs, and so on. Businesses can rapidly arrange all of their ship dates, raw material procurement, and more.
ENHANCED EFFICIENCY & COMPLIANCE
The integration of PACIFYCA SCM aids in lowering the time and effort required by employees to execute their jobs. Our SCM solution also helps employees become more efficient by supporting them in developing more sophisticated techniques for increased profitability. This also allows for innovation and speed in product delivery and procurement. Businesses may boost the speed of execution by identifying and removing bottlenecks that cause delays in supply chain activities.
Various supply chain operations must negotiate tight compliance processes – raw materials must satisfy precise criteria, sustainability standards must be followed, and foreign exports require customs documentation. The greater visibility given by the PACIFYCA SCM system, as well as the flexibility to include compliance controls into processes, decreases the possibility of human mistake and guarantees compliance with rules. This reduces the danger of noncompliance, as well as potential fines and brand reputation harm.
IMPROVED QUALITY CONTROL
PACIFYCA SCM supply chain optimization strategies enable firms to include quality control into the whole production process, from raw materials to customer delivery. An emphasis on quality will increase efficiency while decreasing waste. Furthermore, quality control & management is a key component in supply chain planning optimization since it allows quality standards and KPIs to drive what may be expected at each level of the supply chain process.
EFFICIENT SHIPPING & DELIVERY
The PACIFYCA SCM system gives businesses a real-time picture of the supply chain process from start to finish. In other words, merchants can identify expensive blockages and/or operational inefficiencies and optimize where necessary. Making the required improvements to encourage coordination and boost product flow will also help to streamline delivery. This streamlined shipping in turn translates into fewer delays, fewer late goods, on-time delivery, and, perhaps most significantly, more customer satisfaction.
CUSTOMER SATISFACTION
With up-to-date order information with pre-defined competitive rates or discounts, or both, the PACIFYCA SCM system helps you assure short delivery times. Customers are more demanding than ever before, so meeting – and even surpassing – their expectations is critical for a business to prosper. In any business, customer acquisition is critical to the company's success. PACIFYCA efficiently streamlines consumer and service partner information, allowing the sales team to focus on expanding their client base and strengthening connections. The integrated platform has the potential to significantly improve customer and service partner satisfaction.
ANALYTICS & FORECASTING
Each operation in the supply chain generates a vast quantity of relevant data, ranging from prices of raw materials to delivery timelines and sales figures. The PACIFYCA SCM system gives firms real-time access to all the data, allowing them to monitor operational performance and make educated, and data-driven choices to enhance supply chain operations and provide the best possible customer experience.
Our SCM software has an analytics and forecasting component in addition to automated day-to-day chores. Data is presented in the form of infographics, metric analytics, and MIS reports in these analyses.
CONCLUSION
PACIFYCA SCM Solution is an automation software package that unifies all aspects of a company's supply chain management operations into a unified platform.
For more information, please visit us at: www.atconline.biz