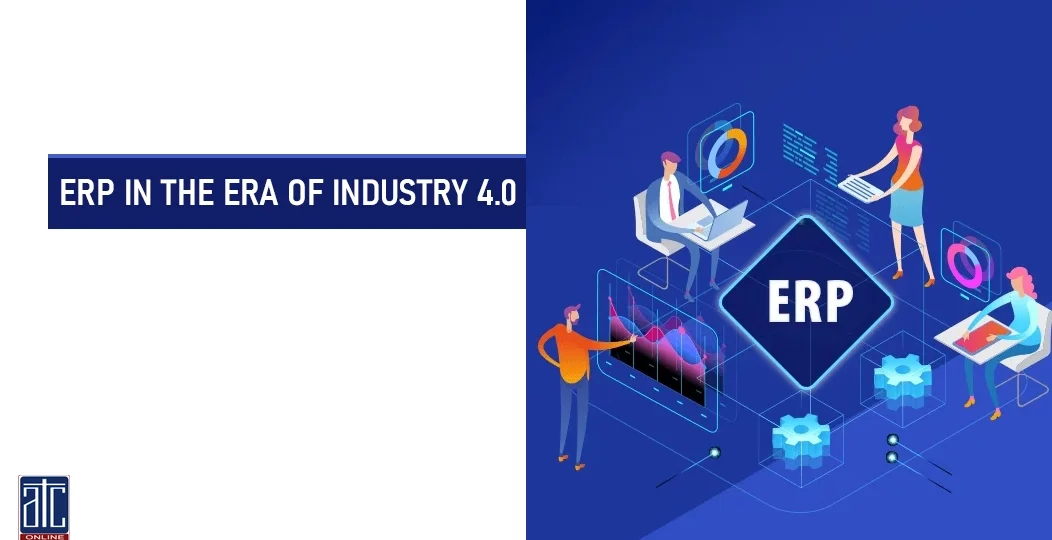 Industry 4.0 refers to the Fourth Industrial Revolution, which intends to automate and upgrade old manufacturing and industrial methods through the use of next-generation technologies. It primarily focuses on utilizing cutting-edge technologies like as AI, Big Data, IoT, cyber security, cloud computing, and ERP. The application of Industry 4.0 technology is critical in enterprise resource planning. ERP solutions are designed to solve business challenges by eliminating manual complications and providing control over inbound and outbound processes.
The incorporation of Industry 4.0 technology into ERP systems will provide firms with greater visibility into manufacturing operations and supply chain operations. They can also use automated resource planning to enhance their logistical operations, increase inventory tracking, and better manage their personnel.
Sophisticated big data analytics enable units to examine and handle enormous changes in structured or unstructured customer and business data. At the same time, the usage of AI algorithms aids in understanding the hidden patterns of any activity, as well as having a clear understanding of client data and understanding their choices, likes, dislikes, purchase behavior, and much more in order to make better judgments. Some of the other significant advantages of implementing Industry 4.0 include rapid migration, lower IT expenses, workforce management, easier connection, and much more.
While the underlying value of ERP remains constant, businesses must also reconsider how they use ERP if they want to take advantage of new opportunities in the age of Industry 4.0. Let us now explore some of the ways how the elements Industry 4.0 take ERP systems to an entirely different level.
THE POWER OF ARTIFICIAL INTELLIGENCE
An AI Powered ERP automates, optimizes, and manages numerous business operations using artificial intelligence (AI). It is intended to assist firms in being more efficient, streamlined, and lucrative. Manufacturing, shipping, banking, health care, and other industries may all benefit from the AI-powered ERP system. It may assist businesses in improving customer service, lowering expenses, and increasing overall efficiency. The technology may also be used to automate typical processes like inventory management and payroll processing, among other things. Businesses that use AI-powered ERP may obtain significant insights into their own operations and the competitive landscape, allowing them to make better decisions.
IMPROVED PRODUCTION PROCESS MANAGEMENT
An Industry 4.0-ready ERP can assist a company in capitalizing on the potential of this new age. It can give the tools required to take advantage of sophisticated manufacturing technologies and automation, as well as improve the production process. A well-integrated ERP that combines diverse operations like supply chain and stock levels with a smart factory may help regulate the production schedule significantly. Apart from being sensitive to market situations, optimizing the production process allows businesses to establish new revenue models by leveraging on emerging possibilities in a timely manner.
The ERP can help to unlock the potential of the production process by providing real-time visibility into the production process, enabling informed decisions that can drive process improvement and optimization. The ERP can also oversee and measure the performance of the production process from start to finish, providing an accurate and up-to-date view of the entire production process.
ENHANCED RESOURCE MANAGEMENT
Organizations benefit from improved resource management skills by using an Industry 4.0 ready ERP. Businesses may effortlessly link and manage their physical assets, industrial systems, and data networks by using the potential of the Internet of Things (IoT). This gives them greater insight and control over their resources, which leads to enhanced operational efficiency, cost savings, and better decision-making.
Furthermore, by connecting with other systems, ERP allows firms to enhance resource use. This might involve connecting with inventory management systems to ensure that resources are not wasted and are used as efficiently as possible. It can also give access to predictive and prescriptive data to maximize resource use and eliminate waste.
ERP systems can also use machine-to-machine (M2M) communications infrastructure to communicate data in real time, giving firms a competitive advantage. Operators may now more effectively monitor operations as they're linked to a unified enterprise-wide system. This allows for the implementation of automated issue detection and response techniques, as well as predictive maintenance functionality. Preventive control of possible equipment failures, as well as timely repair, reduces downtime and maximizes asset utilization.
MACHINE LEARNING
Machine learning may be utilized in ERP systems to assist automate and enhance the accuracy of many typically manual procedures. Automating data input, detecting and preventing fraud, analyzing consumer behavior and preferences, optimizing supply chain operations, and improving customer service are all examples of how machine learning may be applied.
Machine learning may also be used to create predictive models to estimate demand, evaluate client purchasing trends, and optimize inventories. It may also be used to generate suggestions and customize user interactions ERP systems may aid firms in making better decisions and helping them become more accurate, efficient, and lucrative by utilizing the power of machine learning.
PREDICTIVE ANALYTICS & FORECASTING
Economic volatility, fluctuating sales, and shifting customer tastes complicate demand forecasting on numerous levels. Predictive analytics and forecasting in an ERP powered by 4.0 technology is a strong tool for firms seeking to gain insight into their operations and make educated future choices. Companies may use such software to anticipate and forecast future trends by combining data from numerous sources such as sales, marketing, inventory, and customer service. As a result, organizations are better able to anticipate client demands, optimize resources, and choose the best way to use their resources.
Real-time data is another feature of the ERP that enables companies to react swiftly to market and environmental changes. Businesses may use this information to better understand their clientele and create customer-focused initiatives. In addition, solutions may assist firms in enhancing their performance by highlighting prospective areas for development and highlighting areas where changes can be done.
IT–OT INTEGRATION
An ERP that can be integrated with IT (Information Technology) and OT (Operational Technology) systems allows businesses to gain insights into their operations and to improve their decision-making process. The data required to track the performance of both IT and OT systems may be provided via IT and OT integration. It enables companies to locate inefficient locations and implement remedial measures. The performance of company operations may be improved, and improvement opportunities can be found, using data collected from IT and OT systems.
With the help of IT and OT integration, businesses can also ensure that their systems remain secure. This is done by monitoring the access, usage and activities associated with their systems. This allows businesses to identify any potential security threats or vulnerabilities and to respond quickly. Furthermore, such integration might assist firms in streamlining their processes and lowering expenses. Businesses may save the time and money spent managing both IT and OT systems by using a centralized system that is linked to both. This can result in increased efficiency and cost savings.
Finally, integrating IT and OT systems in ERP may assist firms in better understanding their consumers. Businesses that have access to customer data may better understand consumer patterns and behavior and utilize this knowledge to improve the customer experience. This can lead to enhanced client loyalty and revenue growth.
CUSTOM MANUFACTURING
Several manufacturers strive to achieve a "lot size of one" in a cost-effective manner. Manufacturers can quickly develop small quantities of unique things for specific clients by employing powerful simulation software tools, new materials, and technologies such as 3-D printing.
For custom manufacturing endeavors , an ERP solution with Industry 4.0 technologies, such as 3D Printing, as previously mentioned, may assist simplify operations by integrating all parts of the business, such as inventory, sales, accounting, production, and customer care.
The ERP may make custom manufacturing processes more efficient, precise, and consistent. Such automation solutions may aid in the streamlining of production processes by reducing production time, boosting accuracy, and lowering the quantity of human capital required. It may also cut costs, increase safety, and have a lower environmental effect.
INTERNET OF THINGS
The Internet of Things (IoT) is a network of physical objects, devices, vehicles, buildings, and other items embedded with electronics, software, sensors, and network connectivity—that gather and share data. The Internet of Things enables things to be sensed and controlled remotely through existing network infrastructure, allowing for more direct integration of the physical world with computer-based systems, resulting in increased efficiency, accuracy, and economic advantage.
Enterprises can monitor and analyze data in real-time by linking all of their systems, processes, and devices, allowing them to make quicker and better choices. This results in enhanced efficiency, which can result in a variety of benefits such as cost savings and improved customer relations. They may obtain significant volumes of data by integrating IoT devices and sensors into their ERP systems, which can then be utilized to inform decisions, automate processes, and boost productivity. This information may then be used to improve supply chain management, customer service, and other business processes. Businesses may thus, become more agile and gain a competitive advantage by using the potential of IoT and ERP.
BIG DATA ANALYTICS
Big Data analytics in ERP systems may be utilized to guide production, inventory, resource allocation, and other production choices. It is also used to discover client behavior trends, measure customer happiness, and improve pricing. Big Data analytics may also be utilized to discover possible improvement opportunities in manufacturing processes and procedures.
Big Data analytics may also be used to forecast sales patterns, estimate future demand, and prepare for capacity restrictions. Lastly, Big Data analytics may assist in identifying opportunities for cost reductions or process optimization.
CONCLUSION
In the era of Industry 4.0, ERP solutions are becoming increasingly vital. Industry 4.0 is distinguished by the use of new technologies such as artificial intelligence, the Internet of Things (IoT), cloud computing, and many others. Many firms rely on ERP systems to manage fundamental business activities such as accounting, inventory management, customer relationship management, and supply chain management.
By leveraging the power of both ERP and the advances of Industry 4.0, businesses have been able to increase their efficiency, reduce costs and gain insights into their operations. This has allowed them to gain a competitive edge, as well as being able to better serve their customers and provide improved services.
PACIFYCA by ATC ONLINE is a comprehensive automation software solution (ERP) for the contemporary manufacturing sector. Our ERP solution is a future-ready, yet easy, one-point integrated platform that synchronizes all important organizational entities. For more information on PACIFYCA ERP, visit us at: www.atconline.biz
You could also contact us at Enquire Now for business enquires and product information.