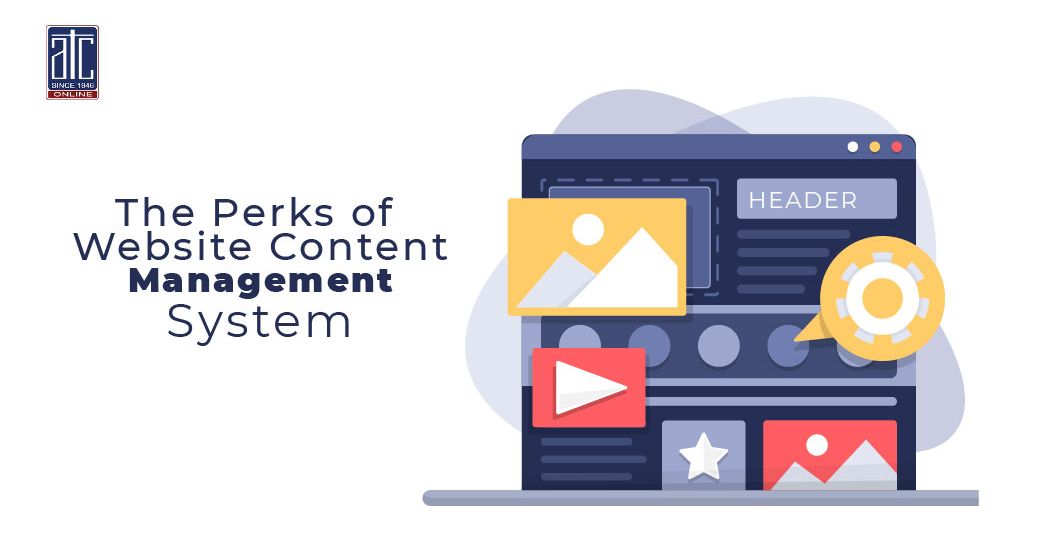 Website Content Management refers to the process of creating, organizing, updating, and publishing digital content on a website. It involves the use of specialized software or platforms known as Content Management Systems (CMS) to streamline and simplify these tasks.
The primary goal of website content management is to efficiently maintain and present information on a website while ensuring a positive user experience. A CMS offers a range of benefits that make them indispensable tools for individuals and businesses alike. Here are some of the perks of using a CMS for managing website content:
CONTENT – CREATION, EDITING & ORGANIZATION
Website administrators or content creators use a CMS to compose and edit various types of content, such as text, images, videos, and multimedia elements. The CMS provides a user-friendly interface for formatting and structuring content. Most CMS platforms offer intuitive text editors and media libraries, making it simple to create and edit content. You can easily format text, add images, videos, and other media, and preview how your content will look before publishing.
Content is also organized using categories, tags, and hierarchical structures to ensure easy navigation and accessibility for website visitors. Proper organization enhances the user experience and helps search engines index the content effectively.
EASE OF USE & EFFICIENCY
CMS platforms are designed to be user-friendly, allowing even those without advanced technical skills to create, edit, and manage website content easily. This means you don't need to rely on developers or designers for every minor update.
A CMS can help administrators make real-time updates to a website without having to go through a lengthy development process. This streamlines the content publishing workflow and ensures that the website is always up-to-date.
COST-EFFECTIVENESS
Using a CMS can be more cost-effective than building a custom website from scratch. The development time and associated costs are significantly reduced, allowing you to allocate resources to other aspects of your business.
MULTIPLE CONTRIBUTORS
CMS platforms enable collaboration among multiple users. You can assign different roles and permissions to various team members, allowing them to contribute, edit, and review content based on their responsibilities.
SEO FRIENDLY
Many CMS platforms offer built-in SEO tools or plugins that assist in optimizing website content for search engines. This includes features like meta-tags, URL structure, and sitemaps, which can improve a website's visibility in search engine results.
COLLABORATION & WORKFLOW
Content management systems facilitate collaboration among multiple users, enabling content creators, editors, and reviewers to work together on the same platform. Workflow features help manage the content approval process before publishing.
Content can be published immediately or scheduled for future publication dates. This feature is useful for planning and coordinating content releases, especially for time-sensitive or promotional content.
MOBILE RESPONSIVENESS
Modern CMS platforms often support responsive design, ensuring that your website looks and functions well on different devices and screen sizes, including smartphones and tablets. This is crucial for providing a positive user experience across platforms.
PLUGINS & EXTENSIONS
Robust CMS platforms have a robust ecosystem of plugins, extensions, and add-ons that can enhance your website's functionality. Whether you need to integrate social media, analytics tools, e-commerce capabilities, or other features, there's likely a plugin available.
SECURITY
CMS platforms prioritize security by regularly releasing updates and patches to address vulnerabilities. Additionally, many CMS systems allow you to implement security measures like user authentication, access controls, and SSL certificates.
ANALYTICS & INSIGHTS
CMS platforms offer integration with analytics tools, enabling you to gather valuable data about your website's performance, visitor behavior, and more. This data can inform your content strategy and optimization efforts
CONCLUSION
In summary, website content management is a crucial process for maintaining an effective online presence. It allows individuals and businesses to create, organize, and publish content efficiently, ensuring a seamless user experience and supporting business goals.
A Content Management System (CMS) offers a wide range of benefits that simplify the process of creating, managing, and updating website content. It empowers individuals and businesses to maintain an engaging online presence without the need for extensive technical expertise. At ATC ONLINE, our cutting-edge business solutions ranging from web designing services, e-commerce, an OTT platform to ERP suites, will unlock the potential to transform your business. To know more about our products and services, visit us at www.atconline.biz