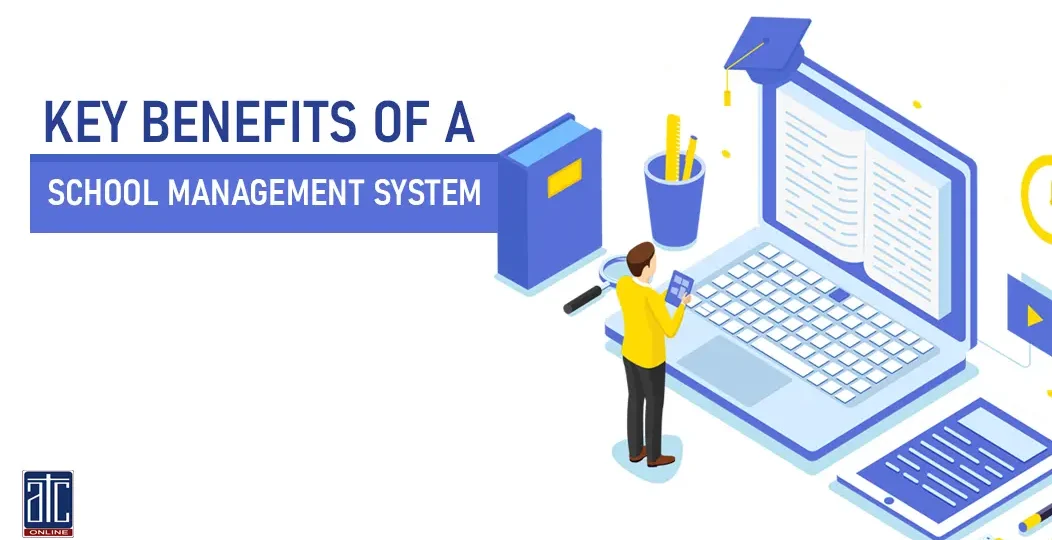 A school management system is a software application that is designed to streamline the process of managing a school and its associated activities. It is used to manage student information, staff data, financial resources, fees collection and other operational tasks. It allows administrators, teachers, and other staff to access important information such as student grades, attendance records, and test scores quickly and easily.
The system also includes features such as online registration, digital report cards, and a parent portal. This system can help schools to operate more efficiently and get the most out of their resources.
EFFECTIVE COMMUNICATION IN REAL TIME
One of the most important aspects of any school management system is its ability to facilitate communication between school management, teachers, parents, and students, all in real time. An effective school management system offers a variety of communication options, such as email, text messages, and other web-based messaging systems. This allows school management to easily send out announcements, provide updates, fee payment reminders, reconciliation notes, and keep everyone informed on various administrative matters.
A school management system can also help to ensure that school policies and procedures are followed correctly. By providing a platform for communication, teachers and staff can easily discuss and enforce school policies, which helps to ensure that everyone is following the same rules and regulations. This ensures that students are in a safe and secure learning environment.
IMPROVED STUDENT PERFORMANCE
School management systems can have a direct and positive impact on student performance. By providing a comprehensive system for tracking student data, school administrators can easily monitor student progress and identify areas of improvement. Additionally, the software can help facilitate communication between teachers, administrators, parents, and students, which can lead to better student engagement and improved understanding of expectations.
With an effective school management system, teachers can easily access student records, including attendance, grades, and behavior. This makes it easier for teachers to track student progress and make timely interventions when needed. In addition, the system can be used to provide timely feedback to students and their parents regarding their performance. This can help build better relationships and foster a sense of accountability among students, leading to improved student performance.
Finally, a school management system can be used to organize and manage extracurricular activities. This can help ensure that students have access to a variety of activities and resources that can help them develop their skills and interests. This can lead to improved student performance, as students are able to apply their knowledge and skills to activities outside of the classroom.
INCREASED STUDENT ENGAGEMENT
A school management system can help increase student engagement in several ways. First and foremost, a school management system provides real-time access to a variety of resources, such as lesson plans, announcements, student activities, and assessment and communication tools. This allows for immediate access to materials and activities, which encourages student participation. Additionally, the system provides direct communication between teachers, administrators, and students, making it much easier for teachers to provide feedback, advice, and assistance.
School management system provide a central location for educational resources, such as videos, articles, discussion forums, and research projects. Having access to these resources makes it easier for students to stay ahead of curriculum and encourages active participation in the classroom. Moreover, the system can also provide access to other resources, such as online libraries, databases, and job postings, which can motivate students to explore topics and apply their knowledge.
Additionally, school management systems can make it easier for teachers to monitor student performance, provide timely feedback, and track progress over time. This provides teachers with an opportunity to work with each student individually and speak to areas of improvement. With this data at their fingertips, teachers can tailor their instruction and activities to meet the needs of their students, which can in turn lead to better student outcomes, enhanced engagement and participation, and improved school performance.
DATA-DRIVEN & INFORMED DECISION MAKING
A school management system is a software solution that is used by administrators and teachers to record, store, and manage all of the information that is related to the school. This includes student and staff data, attendance records, grades, financial information, and more. It enables administrators to control access to data, and restricts who can view and modify the data. For example, teachers can only view and modify their own data and the data of their classes, while administrators can view and modify data of all students and staff. This provides a layer of security and ensures that sensitive data is not available to unauthorized individuals.
The software system also provides an audit trail. This means that all changes and access to data are tracked and logged, allowing administrators to monitor who has access to data and when. This helps to ensure that data is not being accessed or modified without authorization.
A secure online payment gateway system is a hallmark of an excellent school management system as it facilitates a safe and efficient mechanism for collection of fees from parents. It can also generate detailed reports on payments made and also send out reminders for pending payments.
Lastly, school management systems can also be used to create and enforce security policies. This allows administrators to set up rules and regulations that must be followed by all users. For example, passwords can be required for access to certain data, or users can be limited to accessing certain areas of the system. This helps to ensure that only authorized individuals have access to sensitive data.
SAVES TIME & MONEY
The goal of implementing a school management system is to create a more structured and effective school administration process. The School Management System examines the resources that are available to assist the administration in creating smart solutions that can be operationalized effectively to not only ensure smooth operations but also handle diverse difficulties. The software also facilitates frequent communication of essential information via portals and dashboards, resulting in speedier response times for queries and record organization. An automated scheduling system also helps in better time management. School Management Systems are organically intended to maximize productivity where it is most needed in a school.
A school management system enables schools to save money by streamlining processes, reducing paperwork and improving efficiency. By automating administrative tasks such as student attendance tracking, fee collection, report card production, and student performance tracking, schools can save time, labor and resources. Paperless communication also helps to reduce costs associated with printing and distributing documents. Additionally, integrated student information systems enable schools to quickly access information, reducing the time and cost associated with manual data entry. Additionally, with the ability to track performance, school management systems can generate real-time reports about students, increasing student achievement and cost savings. Finally, schools can reduce cost of paper and ink used for printing by digitizing documents.
FINAL THOUGHTS…
A School Management System is designed to manage the different aspects of school management such as academics, administration, student attendance, and student performance. The system provides a centralized platform for school officials to easily control, monitor, and manage the activities within the school. It helps in streamlining the various tasks associated with day-to-day school operations.
PACIFYCA, by ATC ONLINE is an agile School Management System designed for contemporary schools and educational institutions. Our solutions enable an institution's daily operations to run precisely and effectively while also being future-proof. A straightforward yet potent single-point integrated platform, the PACIFYCA School Management System harmonizes all crucial elements of an institute.
For more information, please visit us at: https://atconline.biz/products/pacifyca-school-management-system/
You could also contact us at https://atconline.biz/contact/ for business enquires and product information.