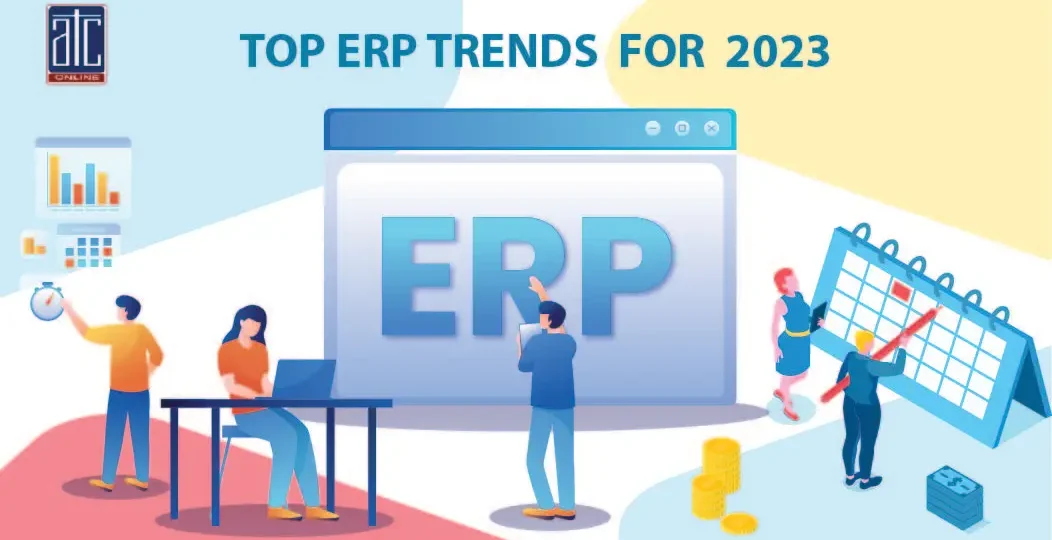 ERP (Enterprise Resource Planning) has evolved significantly throughout the years. Traditionally, ERP systems were on-premise solutions that needed considerable hardware and software investment. However, many companies are migrating to cloud-based ERP solutions, which provide better flexibility, scalability, and accessibility.
As ERP software continues to evolve, digital transformation is as important as it has always been for modern commercial organizations. Keeping up to date is critical for any business. Here is a summary of the latest trends in ERP evolution that we anticipate to emerge in 2023:
MOVING INTO THE CLOUD
Cloud-based solutions are fast taking over the IT world. As more businesses rely on cloud computing, there will be a greater demand for ERP systems that are cloud-compatible. A cloud-based ERP is a software as a service (SaaS) solution that delivers enterprise resource planning capability to enterprises through the internet. Businesses that use cloud-based ERP avoid the need to install and maintain software on their own desktops or servers. Instead, firms use a web browser to access the ERP software remotely.
A Cloud-based ERP provides several benefits over on-premises ERP systems. For starters, it is far less expensive. This is due to the fact that firms are not required to acquire and maintain their own software and servers. Next, such ERP solutions are frequently more up to date than traditional on-premises ERP systems, as the software is hosted and maintained by the ERP vendor rather than the business.
Additionally, cloud-based ERP solutions are scalable in comparison to on-premises ERP systems. This implies they can accommodate companies of any size. Finally, cloud-based ERP solutions are easier to use than stand-alone ERP systems as may be accessed from any device that has an internet connection.
DRIVEN BY ARTIFICIAL INTELLIGENCE
ERP systems are strong tools that may assist firms in more successfully managing their operations. However, when these systems are further enhanced with Artificial Intelligence (AI), they may become much more powerful. AI can help ERP systems become more efficient and effective by automating tasks, providing recommendations, and predicting outcomes. By incorporating elements of AI into an ERP system it is not only possible improve a business's performance, but also maximize its potential.
AI technology embedded in ERP systems may learn and then help to automate regular tasks or provide enhanced user experience by learning and adapting to users' language, allowing systems to better comprehend and respond to users. As AI can handle massive amounts of data, the ERP software can deliver precise, real-time data insights, such as purchasing patterns and buying habits in specific consumer categories. As a result, personalized marketing communications featuring their preferred products and services may now be delivered to targeted consumers.
AI-powered ERP systems may help you enhance customer service by not only providing essential data on customer behavior and preferences, but also by analyzing personnel qualifications, performing appraisals, scheduling service calls, and planning.
With an AI driven ERP, a company may identify inefficient operations and provide recommendations on how to save costs, minimize energy use, and more. Such ERP software can also assist reduce resource waste thanks to predictive diagnoses.
ENHANCED MOBILITY
Mobility has proven to be a prominent trend in the ERP market since it provides several benefits to both the organization and the workforce. Companies may benefit from enhanced service quality, deeper business connections, and more accurate data collection with mobile ERP software, in addition to access to critical data from any place at any time, across a multitude of devices from computers, tablets to mobile phones. Such a flexibility may lead to more accurate reporting, allowing business executives to make more informed choices based on data availability and enhanced relevance. This will help not just in recognizing opportunities, but also in detecting possible dangers within the system. As a result of having access to real-time data, employees may make better decisions in less time.
A mobile ERP system offers supply chain updates, improved and more effective customer communication, centralized inventory control, and the capacity to connect with all team members on the move.
SUSTAINABILITY & ESG
Sustainability and ESG (environmental, social, and governance) will be important considerations for businesses in 2023. ERP systems will increasingly be used to help organizations manage their sustainability and ESG performance. ESG reports rank corporations based on several factors such as environmental friendliness, and supporting good corporate governance. The need for such exposure is increasing. In 2023, ERP suppliers will try to handle ESG reporting, such as carbon accounting. Sustainability and sound financial judgment may coexist.
From the perspective of facilitating efficient business processes, ERP has always been associated with environmental goals in more than one way, as the resultant automation solution is all for spending less, consume less, and maximize the use and reuse of all available resources.
GREATER FOCUS ON DATA SECURITY
In businesses of all sizes, the adoption of ERP systems is expanding. Organizations must take action to safeguard the data stored in ERP systems as these systems become more widely used. Data security is becoming more and more crucial as organizations try to safeguard their sensitive data from fraudulent entities. Businesses are going to invest more and more in encryption technologies and multiple-factor authentication as data security becomes more crucial.
One of the most crucial elements in ERP in 2023 will be the improved data security measures. The focus is likely to be on data protection from illegal access and privacy with more advanced security mechanisms in the ERP systems. The ERP systems will also be required to include safeguards against the unintentional or malicious deletion of data.
ANALYTICS & INSIGHTS
Organizations are likely to place a renewed focus on analytics and insights in real time in 2023, in order to make better judgments. Growing analytical innovations, such as Business Intelligence (BI), have supplanted old ERP features and their limits with powerful new analytic tools for higher data insights. A contemporary ERP's business intelligence capabilities can analyze vast volumes of structured and unstructured data from many sources to produce insights into consumer behavior and market trends. This can help firms make better decisions and provide a better customer experience.
Additionally, Predictive Analytics, which is integrated into modern ERP solutions, use historical data and machine learning algorithms to detect patterns and trends in order to forecast future results. These insights can assist firms in optimizing operations, anticipating client demands, and making better business decisions.
EMPHASIS ON BLOCKCHAIN TECHNOLOGY
Blockchain technology is gaining popularity as companies seek to increase data security, transparency, and reliability. Blockchain technology may be used to build reliable and transparent databases for storing data and transactions.
In 2023, Blockchain technology will gain traction in ERP due to its increased security and traceability. Blockchain allows users to securely store and encrypt their data, making it more difficult for hackers to access or alter the data. Users can easily access their data and be assured that it is correct and up to date as every transaction is recorded on the Blockchain.
Furthermore, Blockchain technology aids in the elimination of duplicate transactions by guaranteeing that all information are recorded in a single, immutable ledger. Businesses may save both time and money by correctly auditing the ERP systems they use without requiring them to manually examine different sources. Blockchain has the ability to completely transform ERP systems, speeding operations and reducing mistakes in financial procedures.
ENHANCED INTEGRATION WITH OTHER SYSTEMS
It is difficult to handle all the data from distinct sources if an organization employs more than one business system, such as CRM, e-commerce, business intelligence, and accounting. ERP integration reduces the need to export and import data from one system to another. It automatically transmits data between two or more systems to consolidate everything into one, reducing human errors and improving data overview.
Integrating BI systems with ERP solutions might also benefit from these two systems. That is, to share corporate data in real time and establish a continuous information flow.
ERP integration with CRM and Accounts is an effective instrument to increase customer service and reduce corporate procedures. ERP integration enables firms to access customer, sales, inventory, and financial data from numerous sources in a consolidated system. This assists organizations in making better judgments, increasing efficiency, and lowering expenses.
ERP integration also assists firms in maintaining client interactions, managing customer accounts, and generating data for better decision-making. Furthermore, ERP integration may assist organizations in automating activities such as order processing and billing.
CONCLUSION
It is critical to grasp the most recent ERP trends and how they might impact businesses. Increasing usage of cloud-based ERP systems, automation of business operations, increasing emphasis on data security, expanded use of AI, and integration of ERP with other systems are among the top ERP trends for 2023.
Organizations must be aware of numerous upcoming ERP trends, including a greater emphasis on data analytics, better mobility solutions, and more usage of Blockchain technology. Simply stated, the future of ERP will most certainly feature increased automation, integration and a stronger emphasis on data security.
PACIFYCA by ATC ONLINE is a comprehensive ERP solution for contemporary businesses across sectors. Our ERP solution is a future-ready, yet easy, one-point integrated platform that synchronizes all important organizational entities. For more information on PACIFYCA ERP, visit us at: www.atconline.biz
You could also contact us at https://atconline.biz/contact/ for business enquires and product information.